Virtual Technology Enabling Care In A Crisis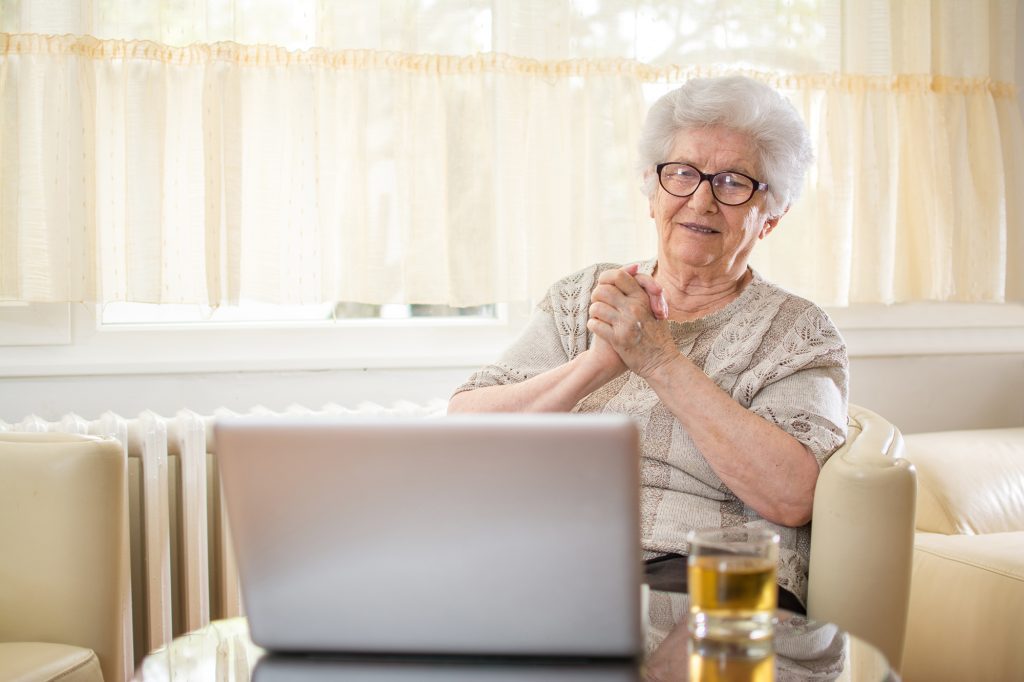 My business partner and co-Provider, David, and I acquired our first residential care home 18 months ago. The Croft is a residential home for 22 elderly people, specialising in Dementia Care, and based in Devon. Since the start, we've been on a roller coaster ride of learning, while also running our other businesses. The pinnacle of learning so far has been around helping the team at The Croft, and their manager, survive during the coronavirus crisis. It has been a challenge, to say the least, and we still have a way to go.
We both come from sectors which have relied heavily on technology, especially online. When we took over The Croft, we had modest plans to leverage technology as much as possible, to help enable care delivery and focus. We'd done our research and knew the sector was going in this direction, especially with technology that reduces the administrative burden on carers and managers in the face of increasingly complex and time-consuming regulatory compliance actions. We chose a home that was already well down this journey, with an electronic care planning system and a relatively sophisticated call bell system.
Little did we know that our experience with online tools (both those that are free and also "software as a service" or subscription models), combined with our skills in operating virtually and globally, would come in as handy as they have done during the coronavirus crisis. Here are some of the online tools which have helped us considerably in the past few weeks. Most are free, and some we pay for.
I offer these examples as food for thought for other care providers and managers. David and I only have one care home, and we have sacrificed time from our other businesses to focus on The Croft during the crisis. I appreciate many of our colleagues in the sector are not in the same position of being able to dedicate focus on one home. However, in the same token, much of what we are doing is using tools many of you are already using. We might just be doing things a bit differently, because of our work backgrounds.

FREE TOOLS

Video Conferencing – there's a plethora of options on offer. We've been using as many hardware ambivalent apps as possible, including: Skype, WhatsApp, Zoom and Facebook Messenger. My favourite is Zoom, for the quality of the video and the ease of operation. Our use of these have been invaluable in three ways:
Relative Connections – offering relatives a mechanism for interacting with loved ones they are missing, as well as the other way around.  Our home specialises in dementia care for people with varying degrees of cognitive ability.  Many of our residents do find this quite a confusing experience, but overall it has worked well as a means to reassure relatives that their loved ones are ok and being well cared for. 
Provider/Manager Collaboration – WhatsApp messenger has been great for spontaneous discussions between our Manager Leanne, and David and I, who both work virtually in different locations.  We've been using it for some time, but it's really only during the crisis that we've started to use both the free conference call and video conference capability available via WhatsApp.  It's very easy to use and has enabled us to make robust and rapid decisions without having to be face-to-face in person.
Expert Input – we've also been gathering expert advice from a Tropical and Infectious Disease Infection Control expert based in SE Asia, who came to us through a job ad placed on Indeed.  Her understanding of the virus, delivered via WhatsApp, has helped us anticipate some of the changes which have subsequently come in through PPE advice from Public Health England.  She has also provided us with a thorough process for stress testing our Infection Control Protocols, to ensure they are robust and ready for the virus' arrival.  WhatsApp Messenger and Video Conferencing have been essential for this partnership, which lasted with a high degree of intensity for about one week.  

I also did a video walk-through of our home in one 30 minute session, and sent the videos as a virtual tour to our expert in SE Asia.  This was done with all due respect to resident dignity and privacy, but it was effective enough for her to understand our context and the unique challenges associated with managing infection control in a Victorian Villa, rather than a purpose-built care home.  The 5 short videos were unedited and sent directly to her via WhatsApp, which compresses them and makes sending very easy.  All this was done from my smart phone. Since then, we've done similar virtual tours for relatives to illustrate the infection control measures we have put in place.
External Entertainers – one of our musical entertainers has been offering free 15 minute sessions for residents in their rooms, via Skype on a tablet. And, we are running 30 minute virtual Memory Sessions run by the team at our local Dementia Day Care, the Ness Centre in Teignmouth. We are also about to trial the London Mozart Players'  'Reach'  initiative for care homes. Live sessions of performance and chat specifically for care home residents who appreciate classical music.
YouTube – communication with our whole team has been a significant challenge and the traditional forms of face-to-face communication have been stretched, as we've been unable to get our whole team together.  In addition to sending group e-mails and texts to our team on their personal devices, which has limited effectiveness, we've started creating virtual staff meetings through YouTube.  With my help, Leanne has done several All Staff Briefings and Senior Carer Briefings via 3 minute videos, which were filmed on my smart phone in less than 15 minutes.  She'd never done this before and wasn't really keen, but took to it like a duck to water and has been really pleased with the feedback she has received from the team.
Social Media – Facebook has been a godsend. We hadn't been using it prior to the crisis, as we'd seen it as a marketing tool we didn't really need. We've not had any significant occupancy issues at The Croft so we've not focused on marketing. Coupled with that, we received a Requires Improvement rating about 9 months after taking over The Croft. While a disappointment after all the hard work we'd been putting in, the previous owner (by her own admission) had let things slip a bit on regulatory compliance, and our new Manager, Leanne, had only been in place one month before the CQC arrived.
Anyway, by thinking of Facebook as a marketing tool, we'd overlooked the value of social media in keeping various stakeholders engaged with what's happening at The Croft. So, we set up our Facebook page about two weeks ago. Both relatives and staff tune in for our daily update, which mainly includes photos of life within The Croft of those who have provided permission, or permission provided on their behalf if necessary. It has been a great source of inspiration and motivation for everyone. Like many care homes we have lovely residents and staff, and the relationship between the two is often very special. Relatives can see this from the photos, and the team appreciate the positive vibes they are receiving from the "Likes". It's been invaluable. Apparently our team are now planning to do a dance for "Tik Toc", like NHS workers. Those of you who know what that means will understand!
Facebook has also been very helpful for staying connected to other providers and how they are coping with this crisis and learning from their experience. There are plenty of care provider groups on Facebook. You just pick the one you think will work best for you.
Indeed – recruitment is always a challenge in the care sector, which is known for having a revolving door, often due to the poor pay, working conditions and lack of appreciation. We've been working hard to try and address the pay gap by increasing fees and passing on what we can. This is a slow process and we have experienced some unwanted staff attrition. Since Leanne has arrived, unwanted attrition has slowed and our team feel much more appreciated.
But the coronavirus has hit all care homes hard, especially when staff are having to self-isolate or shield. We've been operating for the last three weeks on about 80% staff availability and we've needed to fill that gap, while also rapidly filling vacancies we had been carrying prior to this pandemic. By adding some paid ads, we've filled those gaps and recruited enough additional carers to help minimise our need for any agency staff, and reduce the need to rely on our team wearing themselves out with extra hours. As team members return from isolation we may be a little over-staffed, but we see that as a good problem to have.

PAID TOOLS

E-mail – we'd been lazy about gathering e-mails of residents, mainly because so many visit regularly and because we didn't want to invade their privacy too often. That changed with the arrival of the virus. We rapidly gathered e-mails from everyone who has them, created a Croft Families List in Outlook, and started using it for weekly updates from Leanne to all key relatives. They have appreciated it and told us they've found it very reassuring. We've also started using e-mails with our team to pump out key messages about our Infection Control and PPE plans. Again, we've held back on doing this in the past, out of respect to their valuable time off, but in times of crisis, needs must.
Person Centred Software (PCS) – we've had an up and down relationship with this care planning tool, but on balance, it too has been invaluable. Leanne and her deputy are able to access it remotely, and keep up with critical updates while outside work. They are also able to monitor how well the team are doing in recording their care notes. In addition, PCS has been very proactive, probably like similar care plan software providers, by building in a COVID-19 symptoms capability. This alerts us if the data we have entered on a resident's care status happens to start corresponding with the early symptoms of COVID-19. Well done PCS – we appreciate the help.
RotaCloud – this has been another technology star! Care home rotas can be fluid at the best of time, often to do with the many outside commitments of our mainly female team and quite high levels of sickness, compared to other industries. Our previous manager seemed to spend an inordinate amount of time each week trying to balance the rota for the following two weeks. David came across RotaCloud as part of his research into technology-based options for solving our staff scheduling issues. We've had teething problemsas with any new software, but it has generally been great. The highlights: Staff can check their rota via the app installed on their smart phone; they can apply for holiday and have it approved via the app; they can offer up or claim vacant shifts; and they simply clock in and out on their phones, or on a low cost tablet at The Home. From a management perspective, the value is even greater: Rota changes are communicated via the app and e-mail to staff; staff cost modelling for each shift happens automatically; absence is tracked automatically (more or less); and a payroll calculation is pumped out by the software at the end of each pay period. Have a look for yourselves and expect to see The Croft as one of their client case studies in the future!
This has been a brief glimpse (actually more detail than I'd planned when I first started writing) into our journey with virtual tools and how they have helped us during this crisis.  I hope it's been of some benefit to colleagues.  It's remarkably straightforward to use most of these tools, and all you really need is a smartphone, which most of you will already have.  I'm sure many of you are doing a lot of this and more already.  But, there might be one or two nuggets here for you, and we would love to hear your other ideas and suggestions in the comments section below.
Simon Spiller
Co-owner and Provider (updated 27/05/20)