You Should – if You Want to Be Well Cared for in Your Old Age.
Amidst positive Olympic headlines, more sobering BBC news reveals that a solid third of us will have at least two chronic health problems by our late forties (BMC Public Health.) Lead researcher Dr David Gondek warns: "It is not a good prospect for an aging population that you can expect to live longer but many in poor health."
Take a look at your teenage children and ask yourself: 'would they be up to the task of caring for me through potentially long years of declining health?' Look at successive governments' failure to devise a sustainable approach to funding the care sector, then ask yourself the question: 'do I feel lucky?' More usefully, 'who will care for me when I'm not so lucky?'
In the UK, we have a care system brought to its knees by societal neglect and the systemic effects of low-income poverty: not for our care workers the 3% pay increase mooted for the NHS. In fact, many face an imminent reduction to income, thanks to the planned removal of the £20 Universal Credit Uplift. Hard choices are being made by our loyal workers as labour shortages in other sectors provide new alternatives: as it dawns that THEY CAN EARN MORE and HAVE LESS PRESSURE in retail and hospitality, the care sector is struggling to hang onto even dedicated staff.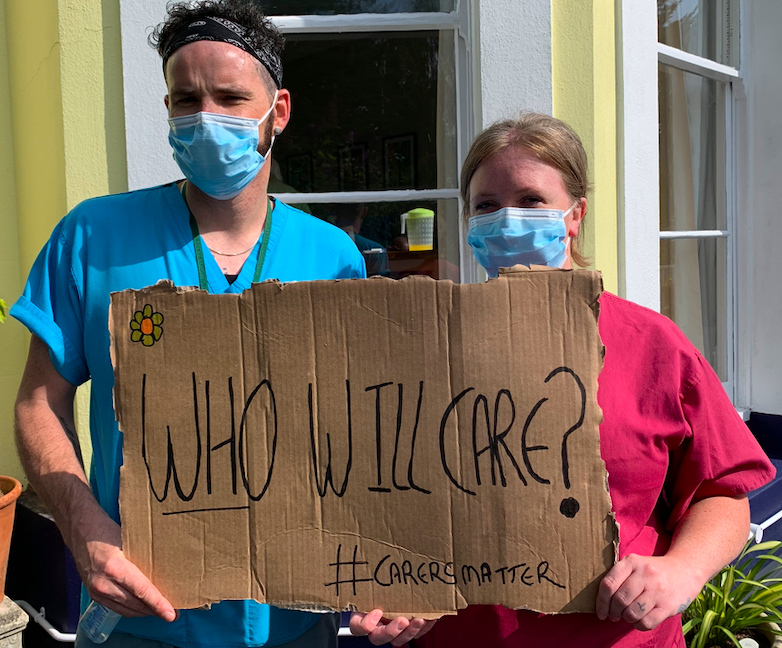 Our recent experience at The Croft shows how the combination of low pay levels and flagging resilience is starting to bite. Most care workers are female and often work anti-social hours to balance their role with the demands of being primary caregiver to children and other dependent family members. But now, the sustained challenges caused by the pandemic are tipping the scales: relationship breakdown, domestic abuse, financial hardship, and debt have all taken their toll on care workers over the past 18 months. After a hard day at work caring for some of the neediest in our society, too many of our team are finding limited respite from that pressure at home. Some even find themselves on the receiving end of psychological and physical abuse.
A recent study by workforce technology provider Planday highlights the need for social care providers to offer mental health and general welfare support to staff. Planday says this is critical to help stem the exodus of carers from the sector. At the Croft we are working with our Registered manager to offer additional support through our employee benefits package: but to address the root problem of better financial security, we need government help to achieve the necessary step-change.
There are currently well over one million care workers in the UK. During the first lockdown, 'Clap for Carers' demonstrated how much they were appreciated, yet by the second lockdown the clapping had died down. How can we demonstrate proper ongoing valuation of the people who are there by the side of our elderly and vulnerable, day in day out? It's not hard. We must put our hands in our pockets and ensure care home staff and community carers are properly rewarded and recognised. To do this, the Government needs to grasp the nettle and fix the social care funding gap, enabling providers to pay staff AT THE LEVEL THEY DESERVE: There can be no way round the need for increased taxation, targeted to the care sector.
We need to appreciate that this issue isn't some remote Governmental technicality; it will affect the quality of life and death for millions of us. As citizens, we must put pressure on the Government, in whatever way we see fit, to help secure the future of social care provision before it is too late. If we can show we do genuinely care for our carers, they may still be there when we need them. The clock is ticking.
If you want to show meaningful support for carers, please ask your MP to hold the Government to account on promises made when they came into office.
Simon Spiller and Heather Noon
Simon is co-owner and Registered Provider of The Croft Residential Home in Newton Abbot, Devon, as well as owning other small businesses. He is a Fellow of the Royal Society of Arts.
Heather is a retired Human Resource professional and a passionate advocate for fair pay. She is a Humanist, Research Associate, and Fellow of the Royal Society of Arts.